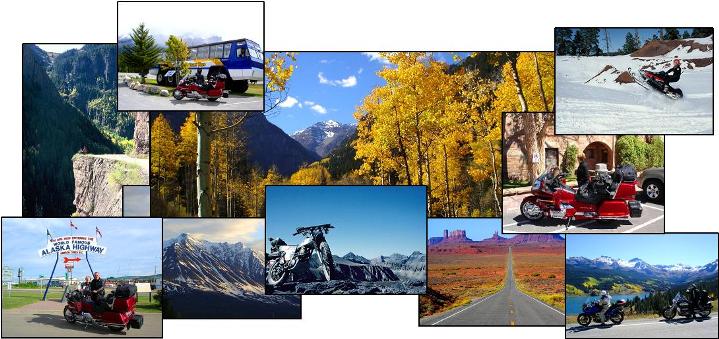 Alaska by Helmet Camera Click Here to watch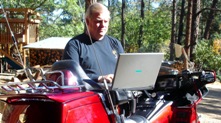 (Click on left picture to enlarge) Latest additions - 1979 Honda CT90 (1,095 miles) and 1980 Honda CT110 revived from 18 years storage - 100 hours of cleaning, new tubes, tires, batteries, carbs, seat covers and other small parts.
Randy was a Contributing Writer for WingWorld Magazine for 10 years. The following are articles published in past years.
Go to the Alaska tab

above left to read the

Alaska: Just Do It

article from December 2006.

The Atlanta Connection

in the Aug. 2011 edition, p. 59


The Love of Riding - Pass It On

in the March 2012 edition - page 60
The Love of Riding - Part 2 in the December 2012 issue, Page 78
GoPro article in the February 2013 issue, Page 22

Scala Rider

product review - July 2013. p. 62

500,000K and counting

- August 2013, p. 74

Randy and Susan Powell have been riding dirt bikes double for over 51 years. They spend most of their vacation time in the San Juan mountains of Southwest Colorado watching the Fall colors change. They have also ridden three wheelers, quads and snowmobiles for all these years and would like to share some of their riding pictures with you. They traveled to Alaska on their GoldWing for an 8,000 mile adventure in 2006 and again in 2008. Here are the pages on this site you can visit. Click on one of the page labels over at the left or on one of the lines below to access these photos.
Susan and Randy lived in Texas from 1966 to 1973 and took most of their vacation trips to Arizona where Susan's parents lived on the Navajo Indian Reservation. In 1973 they moved to Prescott, Arizona. Since 1973 vacations have been primarily in Colorado in the Fall. The category "Fall trips" shows pictures from Utah and Colorado taken during September travels. The next three pages cover 1966 to the present. Then they added some Arizona snow pictures from the last century. The "Other road pics" page includes pictures of the West they thought you might enjoy that don't fit in any other page and the "GWRRA friends" page is for you to send us your pictures to post. Here are some good web links to check out.

"But they that wait upon the Lord shall renew their strength; they shall mount up with wings like eagles; they shall run, and not be weary; and they shall walk, and not faint." Isaiah 40:31
Contact us: randy@ride2up.com