On this page I am posting pictures sent to me by fellow GWRRA riders. If you would like to e-mail me your favorite pic, I will put it on this page as soon as possible. Send to randy@ride2up.com These will be filed alphabetically by last name. Here are just a few to start.
A - Ben Adkins - from Red Oak, Texas riding "The Dragon" in Tennessee and North Carolina
And with his Silver 1800 with trailer - he now rides a black 1800
Wow - Nice rides Ben's riding buddies
B - J. Kendall Benzing - of Monona, Iowa with his wife LaVonne next to their 2003 1800 before it was triked and after the trike kit was installed
Dennis Bible - with his "Spirit of Alaska" on a ride to the lower 48
Click here to read Dennis's Feb 08 Wing World article then click at the left on "Travel with Dennis"
Click here to read Dennis's April 09 article on riding the Smokey Mountains in Tennessee
"Trek over the Top" 2009 snowmachine pictures for the February trip from Tok, Alaska to Dawon City in the Yukon Territory may be viewed by clicking on the picture below to go directly to Dennis Bible's Phanfare on-line photo album. Click on the picture below to see his album - it is great - you will love it. When you get to the home page of the his Phanfare album, click on the small picture under the heading 2009 Album. Then click on "Show Slideshow" to watch the pictures full screen with music.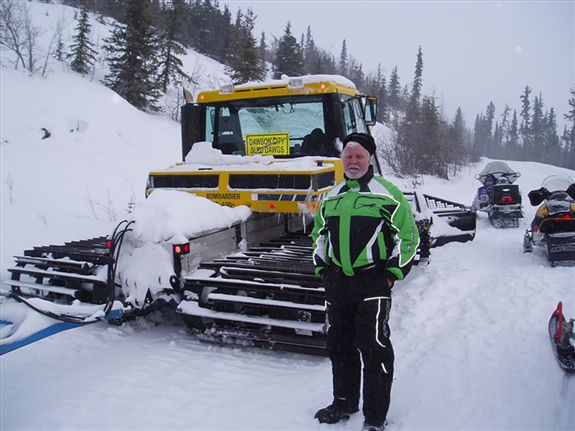 The following ten pictures are from the Summer 2008 ride from Soldotna, Alaska to a Region J rally in Whitehorse, Yukon which then rode over the Top of the World Highway from Dawson City to Tok, Alaska and home again.
Dennis and the gang in Skagway with cruise ships in the background and on the right coming off the short ferry ride across the Yukon River at Dawson City to start the Top of the World Highway.
Lined up with the big group for a picture at Emerald Lake and Dennis, Vic, Jeff, Tiffany and Brian on Midnight Dome above Dawson City.
Some of the Alaska riders waiting to cross at Poker Creek on the Top of the World Highway, and on the right lined up in Skagway. Poker Creek in the most northerly land border crossing in the U.S.
Lined up in front of old floating dredge #4 in Dawson and, on the right, displaying the Yukon, Canadian, and American flags.
Another shot of the colors and, at right, Sue and Dennis Bible taking care of some paperwork details with other riders.
These next 8 pics are from the "Trek over the Top" snowmachine run from Tok, Alaska to Dawson City, Yukon in 2007. These are followed by 34 pics from the 2008 ride. Enjoy the beauty of the North.
Dennis on his 6th "Trek Over the Top" snowmobile run from Tok to Dawson City in 2007. It was 49 degrees below zero when then departed Tok. The white tape is protective tape you put on before your hood, which is under a full-coverage helmet - burrrrrrrr.
Inside Diamond Tooth Gerties in Dawson City you can see what kind of party is being thrown for the riders, including Vic and Dennis. And on the right, you can see what it looks like outside on Main Street. About 100 degree different from inside to outside.
Dennis in front of one of the old buildings in Dawson City - and at the right, several of the 140+ machines that started the trip lined up in front of the hotel they used. Why is that one machine backwards from all the rest?
At Poker Creek, Alaska with the protective tape and hood, complete with the full-coverage helmet. Poker Creek is the most northerly land border port in the USA.
February - 2008 "Trek over the Top" pictures
Dick "One Leg" Walling registering in Tok. That's right - one leg and riding 180 miles one way on a snow machine - with a little help from some friends. And the gas stop in Chicken.
Dennis on the trail with Vic and Dick. Lest you think I am being insensitive about calling Dick "One Leg" - his personalized Alaska license plate on his Honda Trike is "ONELEG".
Vic a little bit out of control trying to get next to the sign and Dennis beside the trail.
A very familiar stance beside the road and some local buildings in Boundry.
Lined up in Dawson City outside and celebrating inside at the Sourdough Saloon.
Heading out for a daily poker run into the area around Dawson City. This is the great outdoors at its best.
Out on Bonanza Creek for a Dawson City Sled Dawg run.
Beautiful sunshine and a great little break for lunch around the open fire.
There are man-made dangers even out in remote areas of the Yukon. Dick found one - a drainage culvert on Bonanza creek. Thanks for friends to help - don't snowmobile alone.
Dick was fine and then there is more of that beautiful Yukon trail ahead.
Vic and Dennis outbound on the trail from Tok to Dawson City and Dennis and Dick at the Alaska/Yukon border.
Boundry, Alaska 4 miles from the Canadian Border - $6 a gallon gas and downtown Dawson City at the Hotel Annex with spa and attrium. Very comfortable especially with sunshine outside.
Vic, Dennis and Craig Anderson whooping it up at Diamond Tooth Gertie's and Vic, Chris Haynes, Dennis and Howard Hancock suited up for the trail home. Howard has done this ride 15 times.
Tape on the face for frostbite protection and, on the right, I think Vic is saying, "What a beautiful day."
Sunshine, blue sky, above zero, packed snow and good friends - what a great day.
Did we mention that it was a beautiful day to ride to Tok?
One last stop before Tok at an abandoned gas station, and at right, the Dawson City locals can go to the store in peace and quiet after we are gone.
Alfred Bruhin - Ansonia, CT and his 2000 1500 with Timeout trailer in Nova Scotia
C - Kevin Carpenter - from Sierra Vista, Arizona on his Valkyrie and with his wife on a ride to Bisbee, Arizona
"While living in my home state of Michigan some 10 years or so ago, I had an experience with my newly purchased GPS. It was a hand held Etrex, the cheapest at the time. Growing up in northern Michigan you learn to hunt and fish at a very early age. My father, a retired infrantry officer, insisted that his boys learn how to read a map and compass before learning to hunt and fish. I might add, a valuable and lost art in todays world. It was the usual custom to ice fish in the winter months to pass those oh so boring days. I set off for a Saturday morning of ice fishing on a very cold January morning. Before I unloaded my four wheeler I decided to take out my Etrex and mark my location on shore. With that done, I set out to cross Mullett Lake, one of Michigan's largest inland lakes. I rode straight east some 5 miles to my favorite fishing grounds. Fishing in Michigan in the winter time with the freedom to ride your four wheeler is a great adventure. I fished all day and into the early evening with some pretty good success. As dark approached the wind picked up and the snow came as large white blinding flakes. It seems dark is the best time to fish walleye so it was not uncommon to stay on the ice until you could not see. But with the snow I decided to make a run for the opposite shore, so I loaded up and started out. After riding in a near blizzard for some time I began to get a bad feeling in the pit of my stomach. I had been riding much to long to reach the shore. I came to a stop in the middle of the frozen lake, in the beam of my headlights I pulled out my Etrex for a reading. WOW! I was heading away from the shore line and straight north. To double check the GPS, I checked my compass and as sure as could be, I was some 4 miles off course. I knew right then that I was in trouble. Just ahead of me was a open river mouth (Cheboygan River). Knowing full well these river mouths are dangerous as ice does not form in the fast moving water I could have very easily ridden right into open water in a blinding snow storm. With my winter clothing I would have been a goner. So that little plastic box and a good compass saved me from a unknown fate that cold winter night. I have since gotten a GPS for the car. Do I rely on it all the time? No, but it can provide valuable additional information. I do not advocate it on the motorcycle however because of the many distractions in todays world while you ride. Thanks K. Carpenter"
Larry Clark - and his wife Patricia from Morganton, North Carolina next to their 1997 Wing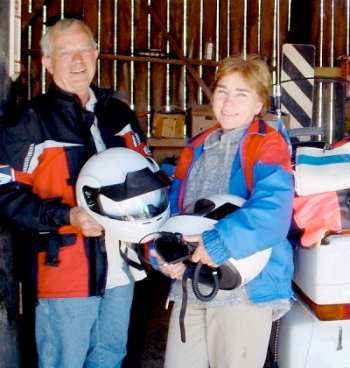 D - Miel Derwael - from Belgium on a Motortrip to France on a Squiggly Road with his fellow riding buddy Jean-Paul
E - David Engholm - Soldotna, Ak to Anchorage - May, 2007
F - James Faison - at Mile 0 in Dawson Creek on his second trip on the Alaska Highway and, on the right, riding with some GWRRA friends in South Dakota on the way to Wing Ding in Billings, Montana (photo courtesy of Judy Rivera - nice picture Judy)
G - Tim Gales - on Hurricane Ridge in Olympia National Park in Washington and, at right, a great picture he took of the San Francisco Peaks in Flagstaff, Arizona during the Fall color season
John Gilbert - from Australia touring the states with friends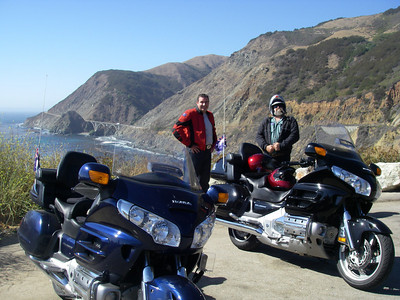 Check out John's website - www.jonkaz.net and www.displaymypride.com He has some great YouTube videos and much more. To read his WingWorld article from March 2008 click on this link then find "Four Aussies Tour America" over at the left. http://www.wingworldmag.com/archives/march2008/WW-March2008-WEB.pdf
Jim Gorman - Jim and Leanne Gorman from Anaheim, California on their yellow 1800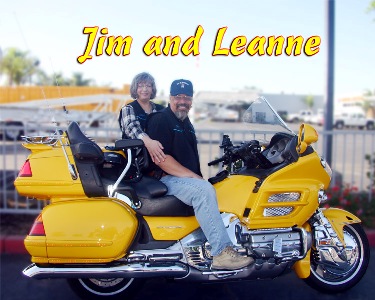 H - Jack Hill and his wife Henny from Innisfail, Alberta, Canada with some riding friends on some beautiful roads in the U.S. around Mr. Rainier. Jack has the yellow 1800.
I - empty
J - Phil Johns - and his son TJ of Tuscon headed down the Coronado Trail south of Alpine, Arizona on Labor Day, 2008 on two different kinds of bikes - Phil's is the 2005 Wing (with a motor). They did the 65 miles together.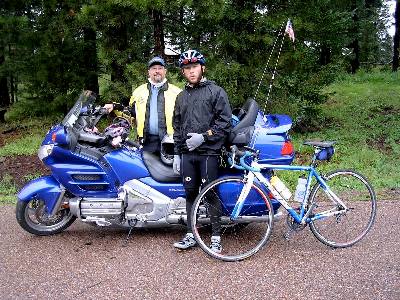 K - Empty
L - Carl and Kathy Leon - GWRRA Chapter WA-E with their silver 1800 and trailer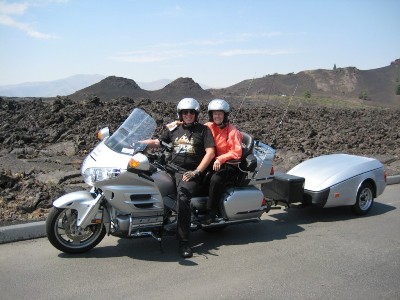 Patrick Lippy - Assistant Chapter Director for Chapter P in Longview, Washington and 2008 winner of a WingWorld Google Earth contest.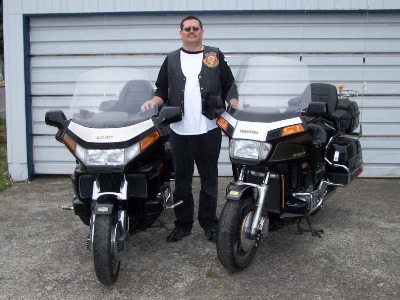 M - Don Mallinson from Washington, Illinois, a winner in the GPS vs MAPS contest sent us a picture of his "Analog GPS" - and Don with his wife Jan and their classic Yamaha Venture.
Kevin Matthews from Kitchener, Ontario, Canada with his ST 1300 Honda getting ready for a trip and programming his GPS
Pepe Maxwell - with wife Sue from Camono Island, Washington riding the "Tail of the Dragon" in Tennessee. Pepe and Sue were the winners of the "Squiggly Road" contest in Wing World magazine.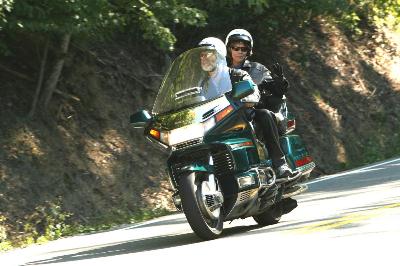 Jack McCoy - with Carolyn at the Sign Post Forest in Watson Lake, Yukon Territory during their summer 2008 trip to Alaska from Thorntown, Indiana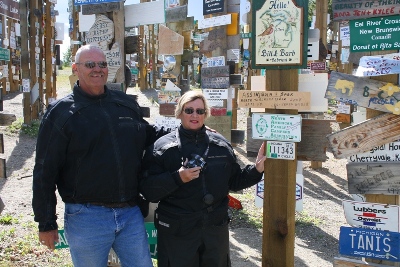 John Miller - from Vancouver, British Columbia near Exshaw (L) and Canmore (R)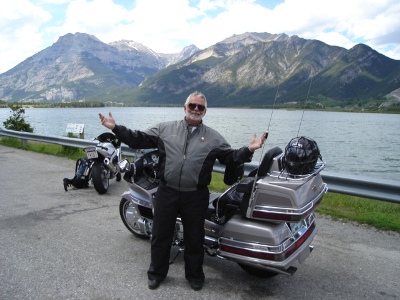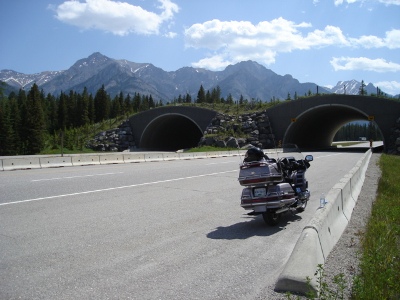 N - O Empty
P - Kevin Puckett - with Bob Sipes on a muddy backroad they were sent down by their GPS unit. They were attending the Davis Motorcycle Rally in New Hampton, Iowa. Bob, on the yellow Wing pushed Kevin backwards out of the mud and they turned around and headed back to solid pavement.
Q - R Empty
S - Joseph Sanders - from Shalimar, Florida
Norman Scott - from Scotland (UK) sent pictures of riding the Stelvio Pass road in Italy
Norman and his wife Ireen - check out more great pictures on Norman's website http://www.winginit.org/ and also check out the other great site Norman recommended http://www.alpineroads.com/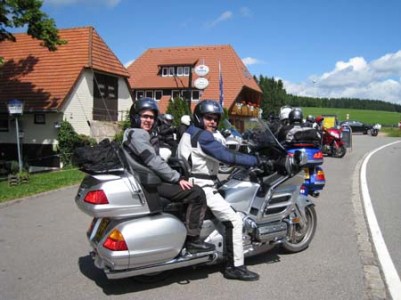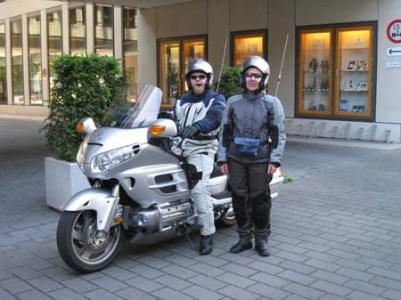 Delton Shirley - and his wife Sydni from Midland, Texas - check out Delton's new website at http://www.dandss.com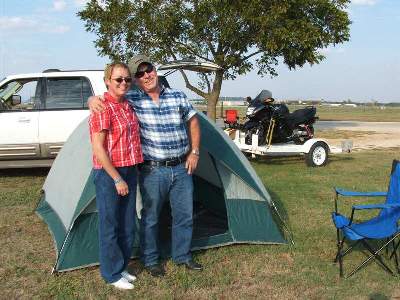 Sid Spann - and wife Bobbie with a trailer flat in West Virginia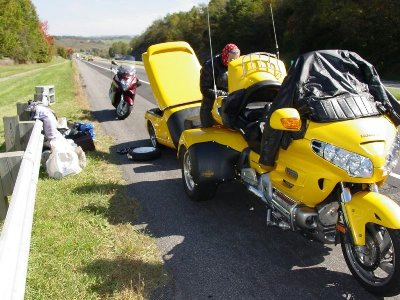 T - Robert Trump with his wife Kathy in front of the Biltmore Estate plus some pictures of some summer and early fall rides with friends - at Wing Ding 30, a special 911 ride and at Honda Homecoming 2008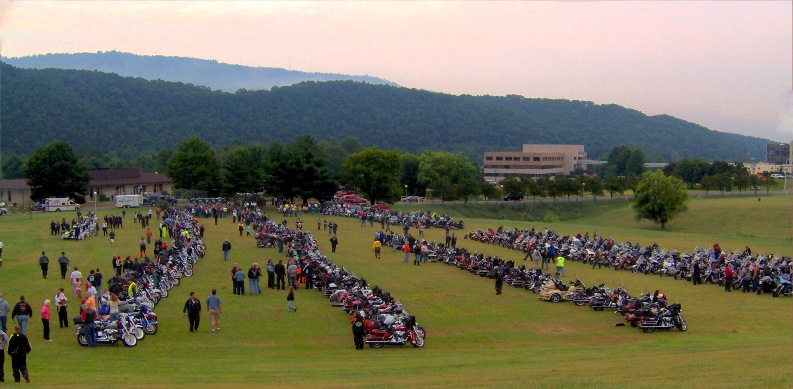 U -V Empty
W - Larry Walley and his wife Cheryl from Albany, New York on Hogback Mountain in Vermont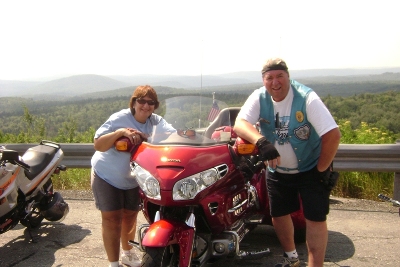 X - Z empty